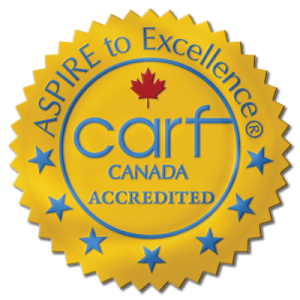 CARF is an independent, nonprofit accrediting body whose mission is to promote the quality, value, and optimal outcomes of services through a consultative accreditation process that centers on enhancing the lives of the persons served. Founded in 1966 as the Commission on Accreditation of Rehabilitation Facilities, CARF establishes consumer-focused standards to help organizations measure and improve the quality of their programs and services. By pursuing and achieving accreditation, SIMAC has demonstrated that it meets or exceeds international standards for quality and is committed to pursuing excellence.
Our CARF accreditation is a significant affirmation from an independent, internationally renowned organization, and our guarantee of:
Commitment to quality
Accountability at all levels of service
Respect for your rights and needs, and those of all our stakeholders
Integrity and professionalism beyond reproach
Commitment to continuous performance improvement.